Our stock of Audax Kernow jerseys is almost gone (just one Medium Women's jersey available) but we are hoping to reorder shortly.
If you are an Audax UK member, have ridden at least one of the Audax Kernow organizers' rides, and would like to buy a jersey, please Email us using this link. This does not commit you to ordering, but it would be helpful to have an idea of which jersey type and size you would want.
If we have sufficient interest to go ahead with an order we will ask you to confirm with your choice of jersey and a £25 deposit.
The jerseys have a strong Cornish theme and are designed to give excellent visibility as you can see from the photos – you will definitely stand out in the crowd.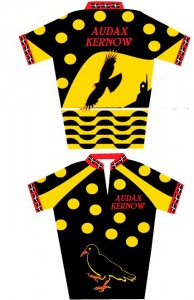 The types of jersey we plan to order are from Endura's Custom Classic and Women's Fit collections as listed below, but if you are interested in any other products then let us know as we may be able to accommodate them in the order.
These are good quality road-style jerseys, made in Scotland. For more details see the Endura web site.
Audax Kernow jerseys in action