AUK members will have received a an update from Chris Crossland on the suspension of Audax UK events. There's some optimism that validation of DIYs, Perms and small calendar events might restart later in the year, but it's difficult to see how our local "village hall" Audax Populaires could be run anytime soon.
Here is something to cheer you up. Chris Rayne, the organiser of the Celtic Coastal and Celtic Canter events, has used the lockdown period to good purpose by updating his account of his 1980 End-to-End – ridden on a tandem trike in aid of the local branch of Muscular Dystrophy UK.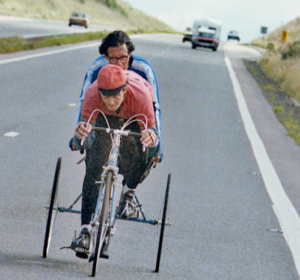 I found Chris's description of the – shall we say challenges – of piloting a trike from John o'Groats to Lands End amusing and hair raising in equal parts. I have to say we won't be tempted to trade the two wheels for three ourselves.
This is the link to the report, and if you would like to donate to the cause you can do so via the local branch or the national Muscular Dystrophy UK site.
Edited 11 June 20 to link to updated PDF file.