Another bit of luck with the weather, with all the riders enjoying a cool-ish but very sunny day.
First off were the Lizard and the Camel riders, on a slightly modified route (due to knee-deep chippings at White Cross) which took the recommended route distance up to 212km.
A very good field this year, including club groups from One and All Cycling and Wadebridge Coasters CC. Special kudos to the latter for virtually passing their collective front doors at well over half way before starting the return leg. There are some excellent pictures of their day on Facebook here and here.
The 110km Red River Blue Sea event was off next at 9:00. The route is a figure of eight giving the riders a scenic loop around West Penwith, and two bites of the cherry (or what you fancy) at Gwithian.
Finally the 56km Peter's Point riders set off for a round trip to the Gwithian control. There was a good mix of riders of all ages, including several on electric bikes.
A few more pictures from the Départ here.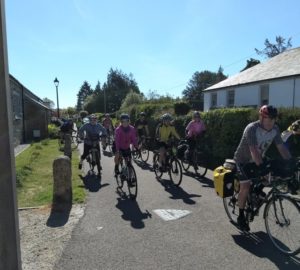 The first riders on the short route started to arrive back around lunchtime, soon interspersed with the fastest on the 100km route. The Randoneurs started to return in the early evening with everyone through by about half past seven – some relieved, some triumphant and all in very good spirits.
Congratulations to everyone who took part and made it such a pleasant day all round, and special thanks from the organiser to all the helpers on the day.
Results on the Audax UK site; see links below.