We still have a few Audax Kernow jerseys available to AUK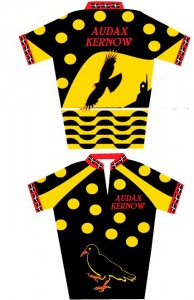 members who have ridden one of our events this season or in the past.
The jerseys have a strong Cornish theme and are designed to give excellent visibility as you can see from the photos below – you will definitely stand out in the crowd.
The jerseys are from Endura's Custom Classic collection from 2017. These are good quality road-fit jerseys, made in Scotland. All still at 2017 prices, so very good value!
The remaining stock will be available at Perranwell on Sunday or you can email us using this link to reserve and arrange payment.
Jerseys still available:
Short sleeved road jersey with full zip Sizes S, M and L £51.60
Short sleeved road jersey with concealed 3/4 zip Size L £54
Long-sleeved road jersey Size M  £58.80
Audax Kernow jerseys in action