The Celtic Coastal and Celtic Canter events from Wall wrapped up the Audax UK 2019 season nicely. Numbers were down a bit, probably due to the truly horrible weather the day before and the forecast light rain and strong winds. There may have been a little weather trepidation at the Départ but Chris Rayne's parting shot of "it will be sunny later" certainly proved correct, even if early climbs took us up into the clouds. Winds never seemed quite from the direction expected as the road and the eddies turned back and forth along the cliffs and lanes, and riders enjoyed an exhilarating mix of headwind, cross wind and going well, along with some spectacular seascapes. Back at the Arrivée we were well rewarded with hot soup, sandwiches and cakes – many thanks to Chris and Liz for organizing and feeding us, and helpers Trevor and Simon at Wall and Peter (and Max) at The Apple Tree. Results are on the AUK site – linked and summarised below.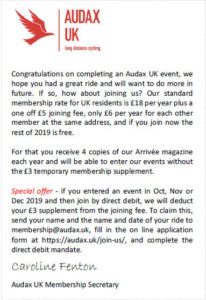 If you rode one of the Wall events paying the £3 insurance supplement for non-members you can take advantage of an offer from AUK membership to deduct £3 from your joining fee. More details are in the flyer here, or on the AUK site.
Don't forget that in addition to the AUK membership benefits, if you've ridden one of the Audax Kernow events AUK membership also qualifies you to purchase an Audax Kernow jersey. Details of the jersey are in this post – we currently have a S, M, L and XL in the full zip short sleeve version, plus a limited selection of the long sleeved and 3/4 zip variants.  Email us using this link if you are interested.