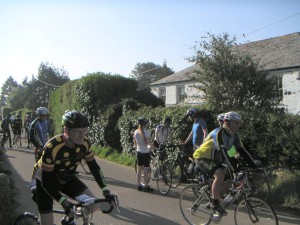 The results lists for the events on Sunday are now up on the AUK site – see links below.
There was a very good turn out for the new Lizard and the Camel Brevet de Randonneur, including a lot of people attempting this distance for the first time. Just two strategic withdrawals during the ride – everyone else finished comfortably in time, so congratulations all round and Chapeau to the new randonneurs. Medals and brevet cards will be with you in due course.
The 12 riders on the 59km Peter's Point ride also did well – everyone finished and returned to Devoran in good spirits. The results for the Cove and Cliff 110km were "mixed", with only 20 riders validated out of 38 starters, mainly due to very incomplete brevet cards rather than inability to ride round the route.  Three riders failed to say they had abandoned the ride. Such a high percentage of DNFs (actually CBAs) reflects badly and compromises the viability of my future events.
The riders had the benefit of excellent weather and a scenic stop at Gwithian Towans where Peter Hansen and Phil Samuels dispensed bananas, cake and water – and perhaps a bit of encouragement to those with many miles still to go.
Many thanks to both of them for their support and help and to Margaret for her 16 hour stint in the kitchen.