Thanks to those who registered your interest. I will be putting in the order for the custom jerseys shortly. On  current lead times the jerseys should be available during April. A couple of updates:
We will be able to offer a long-sleeved version as well as the short-sleeved styles – full list updated below.
We've extended the availability of the jersey to Kernow and Southwest 600 riders, in addition to AUK members who have ridden at least one of the Audax Kernow organisers' rides.
To preorder a jersey, please send details of the jersey(s) you want to buy (size and style), with a cheque for £25 deposit payable to Audax Kernow, to
Sundown, Kersey Road, Flushing, Falmouth TR11 5TR.
Alternatively email us using this link and I will provide bank details for payment by bank transfer.
Jersey details
The jerseys have a strong Cornish theme and are designed to give excellent visibility as you can see from the photos – you will definitely stand out in the crowd.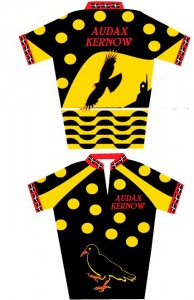 The types of jersey offered are from Endura's Custom Classic and Women's Fit collections as listed below – follow the links for full details.
These are good quality road-fit jerseys, made in Scotland. For sizing see the Endura size guide.
Audax Kernow jerseys in action